Team 91 Named #1 Program in the Nation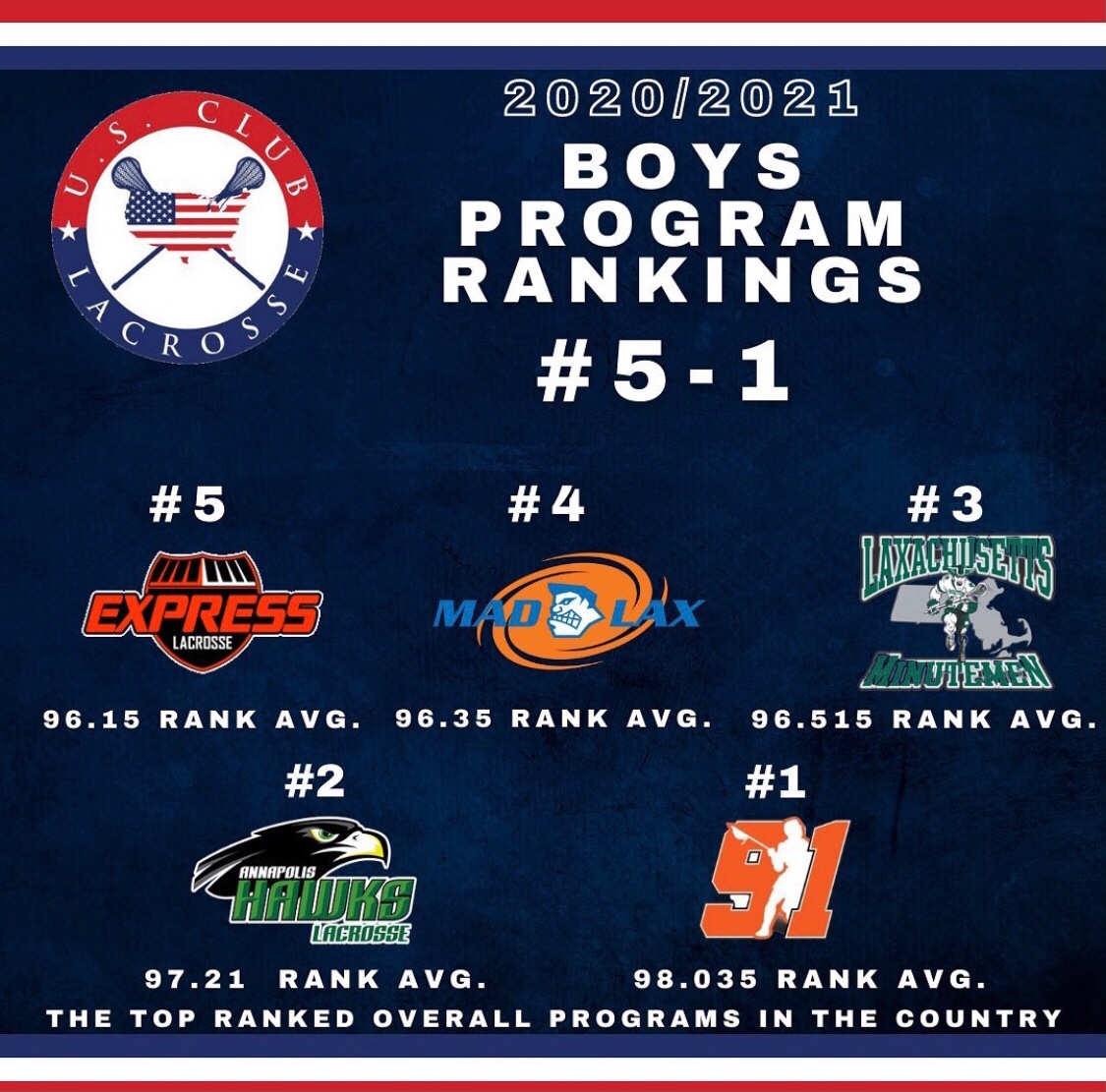 Make it a hat trick for Team 91
For the third consecutive year, 
we've been named the No. 1 club
 in all of club lacrosse by US Club Lax! Team 91 checked in at No. 1 with a 98.035 rating, well ahead of the No. 2 club's 97.21 score. The rankings are made by averaging each team's score at every age group from 2022-2027. The 2022 Smash, 2023 Bandits, 2024 Wolfpack and 2027 Machine were all chosen as the No. 1 team nationally in their respective age group.
"It's awesome to see our club recognized for its formidable depth and balance from top to bottom," Team 91 founder Brian Spallina said. "You don't get to be recognized as the top program in all of club lacrosse if only one or two of your teams are good. We've made it a point to ensure that ALL of our teams compete against the highest caliber of opponents. Our guys train harder than anyone else. It takes a very high level of commitment to put in all of the work that's necessary to be the best, so it's a credit to our players and their work ethic. Our coaching staff is also second to none. We're extremely thankful to all of our coaches for everything that they've done to help these kids get better. Their passion and energy makes our players get that much better."
The 2022 Smash won the prestigious CrabFeast in June and reached the championship game of the NLF National Championships. For the third straight year, a Team 91 player was atop both the NLF and Inside Lacrosse player rankings as Joey Spallina (Mount Sinai / Syracuse) followed in the footsteps of  '20 Brennan O'Neill (St. Anthony's / Duke / 2021 ACC Rookie of the Year) and Andrew McAdorey (St. Anthony's / Duke / 2021 US Lacrosse Player of the Year) as the top dog.
The 2024 Wolfpack won the NLF National Championship for the first time. The 2025 Shock, which was ranked No. 4 in the class by US Club Lax, won Team 91's third straight World Series of Youth Lacrosse and made it to the title game at the NLF Summer Kickoff. The 2027 Machine won a trio of tournaments, including the NLF Summer Kickoff.
It's clear that Team 91 is the top club in the country from top to bottom. We're not going anywhere, either. This is a great accomplishment, but the work has only begun as we continue to prove that this is the place to be.