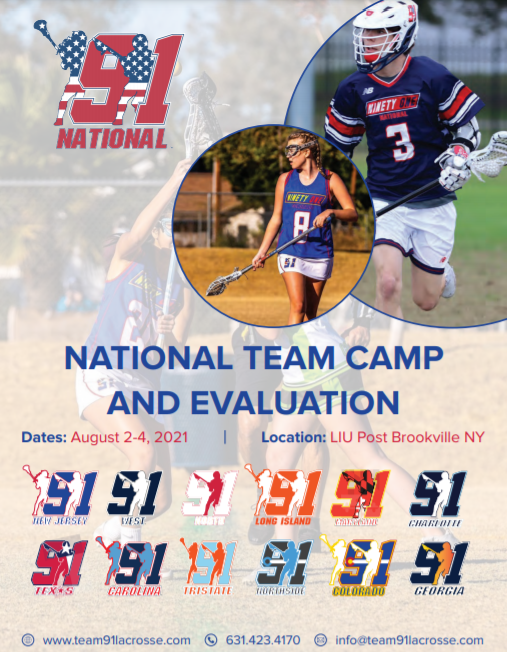 TEAM 91 NATIONAL EVALUATION CAMP
Dates: August 2nd-4th, 2021
Location: LIU Post, Brookville NY
Times: 8:00am-8:00pm (3 2-hour sessions throughout the day)
Cost: $535 (includes custom, sublimated reversible, shorts and tech tee)
*players will be responsible for meals, transportation, and lodging. Team 91 will provide transportation and lodging options through our travel partner; Athlete's Hospitality.
Team 91 National will be guided by Team 91 directors, including the likes of pro lacrosse all-time championships leader Brian Spallina (Long Island), Denver Outlaws President and three-time MLL champion Matt Bocklet (Colorado) and PLL player, former MLL All-Star, Purchase College head coach and former Dartmouth assistant Mike Bocklet (Tri-State). The Bocklet brothers will serve as the Team 91 national directors, and they'll be supported by regional directors in Hall of Famer Mark Millon (Maryland), Ed Torriero (Texas), Nick Caruso (New Jersey) and Nick Holota (Carolina).
"This camp has been something that we've thought about for a long time, and it's amazing to see it come
together," Team 91 founder Brian Spallina said. "We're so pumped to bring together the best players in the
Team 91 family from around the country and have them play with and against each other to bring out the best.
Our players are going to learn a ton from this camp, and the end result is going to be the formation of some
incredible teams that are going to play against the top competition in the country."